Venue

Info

Cuisine

Greek, Mediterranean

Dress Code

Casual,

Price Range

$7 - $20

Crowd

Place for all

Age

Family friendly

Parking

Street Parking
Downtown Parking Garage


Credit Cards

Area

Hours

Monday - Thursday 10:30am - 1:30am
Friday - Saturday 10:30am - 2:20am
Sunday - 11am - 9pm


Features

Catering, Parties, Daily Specials,
Carry -Out & Delivery, Accepts Reservations, Outdoor Dining, Open Late Night

Facebook

Ali Baba Gyros on Facebook

Menu

Ali Baba Gyros Menu

Delivery

Metro Dining Delivery - 474-7335

Reviews

Ali Baba Gyros
112 N 14th Street, Lincoln, NE 68504
(402) 435-2615
Ali Baba Gyros - Description: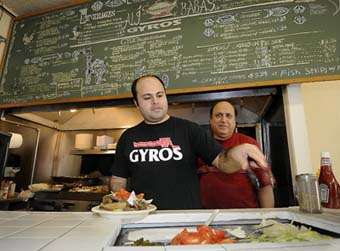 If you've been downtown especially late-night you, know one of the best gyro restaurants is Ali Baba Gyros.

Ali Baba, located near the corner of 14th & 'O' Street has been part of the downtown experience since 1990.

Owner Naqibullah Attaie opened this fine establishment after running Kuzas Kabobs, this location with better foot traffic and smaller size was much more manageable.

Their menu has remained the same for over 20 years and features traditional greek foods, chicken, vegetarian salads, gyros and burgers.

With generous helpings of great food, friendly and personable staff, this is a place you can't pass up! Plus they now offer delivery with Metro Dining Delivery! So even if you can't make it there you can have their great food delivered right to your home or office.
Ali Baba Gyros on Facebook:
We are not responsible for changes in menu items, prices, phone numbers, addresses or any other information in regards to restaurant data.
All information is subject to change. All images and names are property of their respective owners.
All links or information are provided for informational purposes only and is provided to you "AS IS".
NiteLifeLincoln.com is not liable to you for any form of damages arising out of use of these sites or links.

Is the information above incorrect or need to be updated?
Click here to let us know and we wil make the changes as soon as possible.